Click here to view original web page at www.scmp.com
Promotional poster for the upcoming 'PM Narendra Modi' film featuring Vivek Oberoi. Photo: Twitter In May 2014, when Prime Minister Narendra Modi's Bharatiya Janata Party (BJP) won a commanding majority at a general election after 30 years of coalition governments, an Indian magazine called Open published a cover story about the victory headlined "Triumph of the Will". This is also the name of a 1935 propaganda film by German auteur Leni Riefenstahl that was commissioned by none other than the leader of the Nazi Party, Adolf Hitler – whose name even appears in the opening credits. The Open magazine cover featuring Modi. Photo: Twitter If the magazine had made the connection deliberately then it did not publicly admit to it, though it would have been uncharacteristically prescient given the relationship between Modi and the movie industry that later developed. If, on the other hand, its use was unintentional, then it only spoke of how clueless the magazine's editorial staff were about propaganda and its toxic legacy in the 20th century. began life as a small, whimsical, independent magazine that (full disclosure) I worked at until the week of that cover story. But in the run-up to the 2014 election it suddenly switched gears, emerging as a mouthpiece for the BJP and Modi's core team especially. Despite widespread derision over the "Triumph of the Will" cover on social media, the magazine for its part has kept quiet. A title card from the Triumph Of The Will propaganda film. Photo: YouTube Yet this year, as Modi stands for re-election, 's reference to propaganda half a decade ago seems particularly prophetic. In January alone, three mainstream Hindi films were released that directly channelled Modi's positions, policies or rhetoric. In The Accidental Prime Minister , Modi's predecessor Manmohan Singh is portrayed as a puppet of the prominent Nehru-Gandhi family – the so-called first family of Indian politics as three of its members have been prime minister. The BJP's approval of the film was made quite clear when it shared a link to the trailer on its official Twitter account. Uri: The Surgical Strike , meanwhile, dramatises a covert operation conducted by the Indian military against Pakistan in 2016, in retaliation for a deadly terrorist attack earlier that year in Kashmir. In the film, a prime minister who is unnamed but looks like Modi is shown as a caring man who stays up late to see how the operation ended and congratulate the team. On January 19, when Modi officially opened the National Museum of Indian Cinema in Mumbai, he greeted the audience with a line from the film: "How's the josh [energy]?" The third film is Manikarnika , an epic period drama based on the life of the queen of a 19th-century princely state who battled the British as part of a series of uprisings across colonial India that came to be known as the Revolt of 1857. "The difference between you and me is that you want to rule, and I want to serve my people," the title character says to a British officer in the film. This distinction between ruler and public servant is one that Modi likes to make when comparing himself to the Nehru-Gandhis – often referencing his own humble background as a chaiwala (tea seller). Elsewhere in the movie, Manikarnika saves a calf from "becoming steak" for the British. Modi's tenure as prime minister has been marked by a large number of horrific killings known as cow lynchings, in which people are murdered on suspicion of eating beef, or taking a cow for slaughter. Cows are sacred to some – primarily upper-caste – Hindus, yet beef is a cheap source of protein for many lower-caste communities. India is also home to the world's second largest population of Muslims (after Indonesia), as well as a small percentage of Christians. Both these communities eat beef. The Modi references don't end there, either. A biopic on the prime minister has been announced starring Indian actor Vivek Oberoi, who is credited in promotional materials as Vivek Anand Oberoi. The significance of this name change – a departure from how Oberoi was credited for the first 16 years of his career – can be seen in its similarities to Swami Vivekananda, the assumed title of a 19th-century philosopher often photographed in saffron-coloured robes whose confidence in his Hindu identity shares certain similarities with the Hindu-first politics of the BJP. Vivekananda believed, for instance, that the long Muslim rule in what is now known as India was a thousand years of "slavery" to "central Asian savages". He is one of the thinkers that Modi quotes most often. Interestingly, Vivekananda's real name was Narendranath, a longer version of the prime minister's first name Narendra. Oberoi seems to have decided that he must not only look like the prime minister but also underline his proximity to him by rolling out his full name for this project. जय हिन्द. జై హింద్. ஜெய் ஹிந்த். Jai Hind We humbly ask for your prayers and blessings on this incredible journey. #AkhandBharat #PMNarendraModi pic.twitter.com/t0lQVka7mJ — Vivek Anand Oberoi (@vivekoberoi) January 7, 2019 Looking ahead, Mere Pyare Prime Minister (My Dear Prime Minister), which will tell the story of a child from a slum who wants to build a toilet for his single mother, is also nearing completion. Toilets form an integral part of Modi's flagship Swachh Bharat Abhiyan (Clean India Campaign). Other films to broach the subject include 2017's Toilet: A Prem Katha (Toilet: A Love Story) which was about a young wife who demanded a toilet in her marital home, sparking a sanitation and social revolution. This film directly referenced Modi's toilet campaign while also expressing admiration for his controversial demonetisation of the 500- and 1,000-rupee notes – a move widely held by economists, including the Nobel laureate Amartya Sen, to be a disaster. The film, however, is considered a hit. Modi sweeps a street in New Delhi at the launch of his Clean India Campaign in 2014. Photo: AFP Last year, Hindu cinema giant Yash Raj Films released Sui Dhaaga (Needle and Thread) – a love letter to Modi's Make-in-India and StartUp India campaigns, with its against-all-odds narrative of a young couple's small entrepreneurial venture. One of the prime minister's most resonant election campaign promises was that he would create 10 million jobs per year. In 2018, Modi said 7 million jobs had been created in India – arguably the highest in his tenure as prime minister – yet still 30 per cent short of what was promised. Moreover, India's job data is contested – economists who are not employed by the government point to problems with the numbers. Modi has indirectly admitted as much in a television interview, where he said he considered someone selling small street snacks like pakoras to be gainfully employed. Sui Dhaaga seemed to channel this self-employment narrative. There has, in general, been a noticeable increase in nationalistic films over the past five or six years. Mostly, this takes the form of the sports drama, which offers a loving vessel for nationalism and its iconography – unfurling the flag, singing the national anthem and other such displays. Modern action films, too, often feature plots about threats to national security or the adventures of the country's many fighting forces, while even social dramas and love stories are seasoned with such themes – romantic heroes in some Hindi films work on projects of national importance, such as education or finding solutions to women's health issues. It was enlightening to hear the honourable Prime Minsiter @narendramodi share his views on our Industry's soft power status and the strength of our cinema…he gave our media and entertainment representatives a patient and solid hearing….thank you Sir!! pic.twitter.com/BIl8ubQwYa — Karan Johar (@karanjohar) December 18, 2018 Aside from what is happening on the screen, Modi has also been photographed with Bollywood actors, directors and producers over the last few months, both in serious-looking formal settings and grinning selfies. In a recent interview, big-ticket Bollywood director Karan Johar said the PM had been "very proactive on [film] industry needs and had addressed them."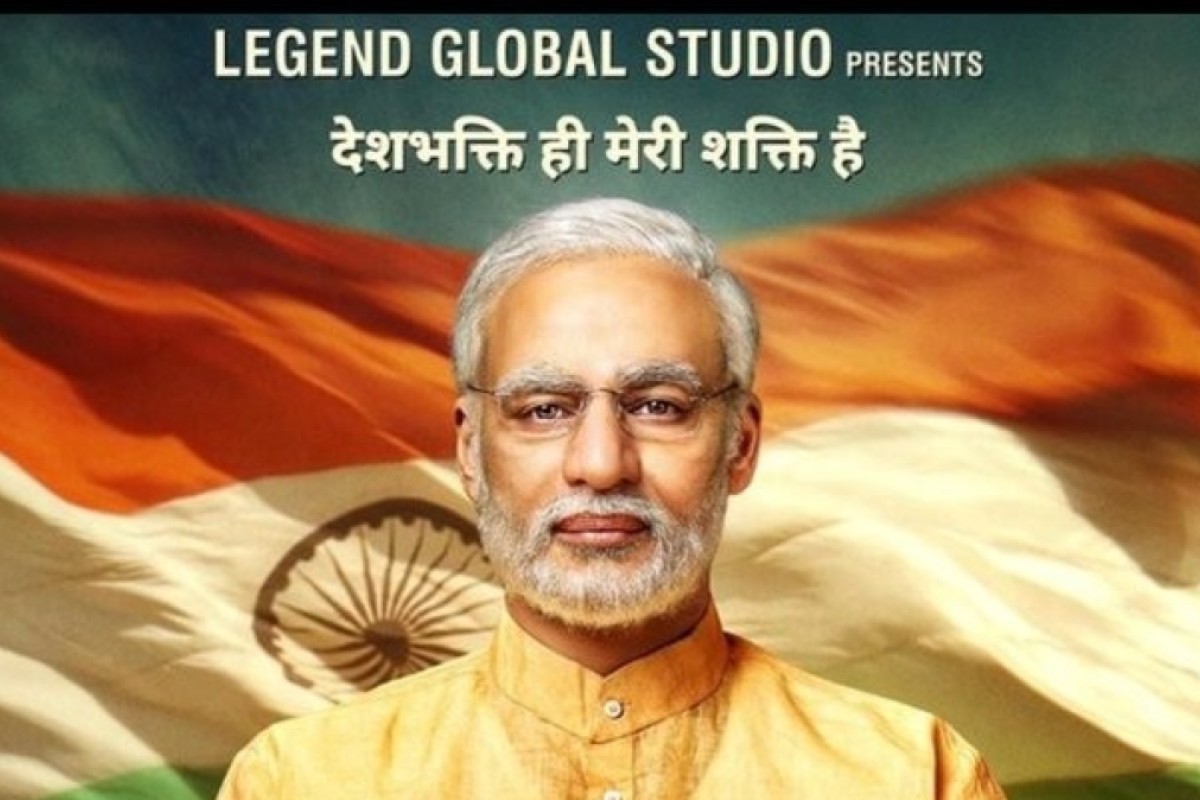 In May 2014, when Prime Minister Narendra Modi's Bharatiya Janata Party (BJP) won a commanding majority at a general election after 30 years of coalition governments, an Indian magazine called Open published a cover story about the victory headlined "Triumph of the Will".
This is also the name of a 1935 propaganda film by German auteur Leni Riefenstahl that was commissioned by none other than the leader of the Nazi Party, Adolf Hitler – whose name even appears in the opening credits.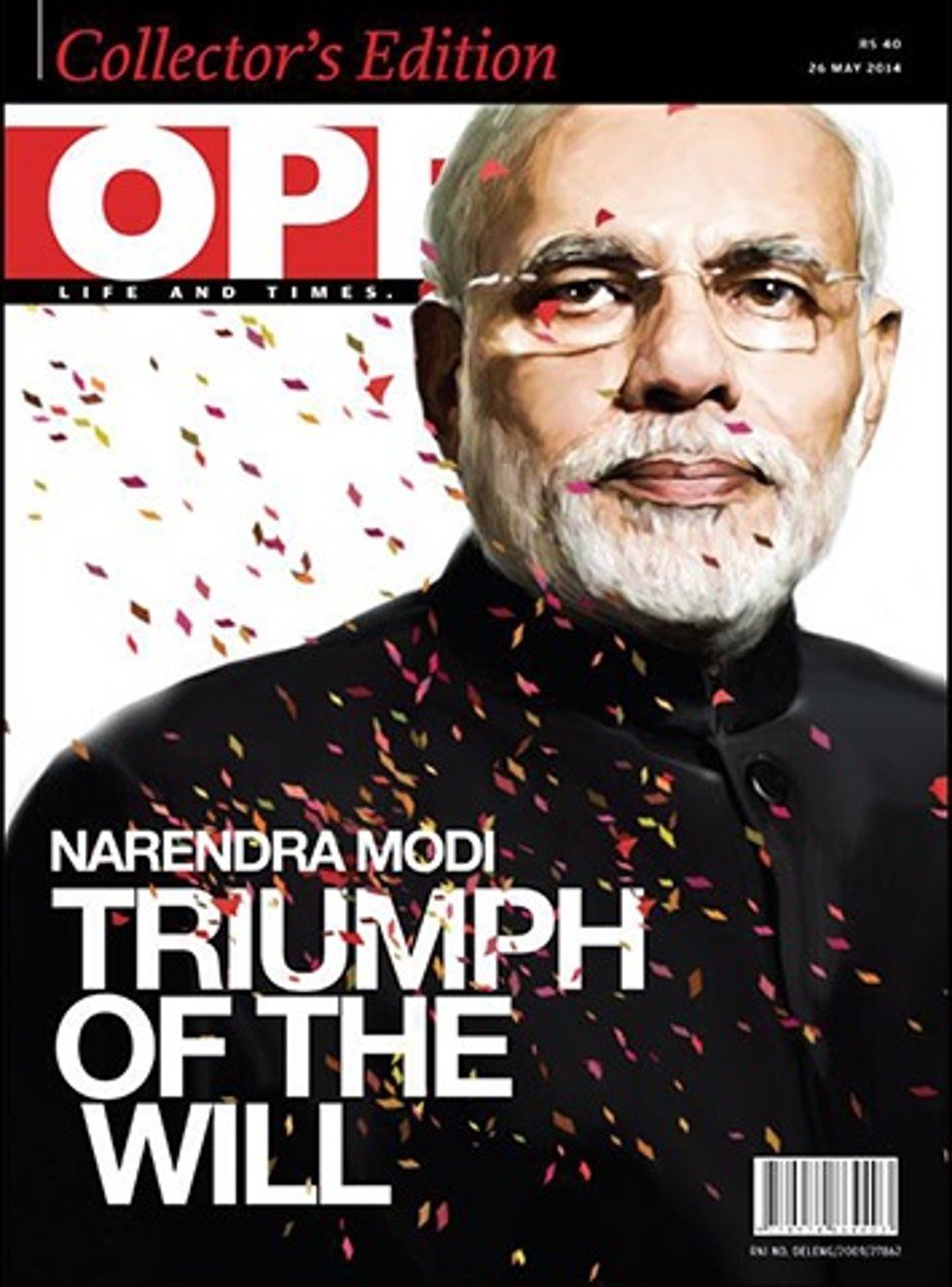 If the magazine had made the connection deliberately then it did not publicly admit to it, though it would have been uncharacteristically prescient given the relationship between Modi and the movie industry that later developed.
If, on the other hand, its use was unintentional, then it only spoke of how clueless the magazine's editorial staff were about propaganda and its toxic legacy in the 20th century.
began life as a small, whimsical, independent magazine that (full disclosure) I worked at until the week of that cover story. But in the run-up to the 2014 election it suddenly switched gears, emerging as a mouthpiece for the BJP and Modi's core team especially. Despite widespread derision over the "Triumph of the Will" cover on social media, the magazine for its part has kept quiet.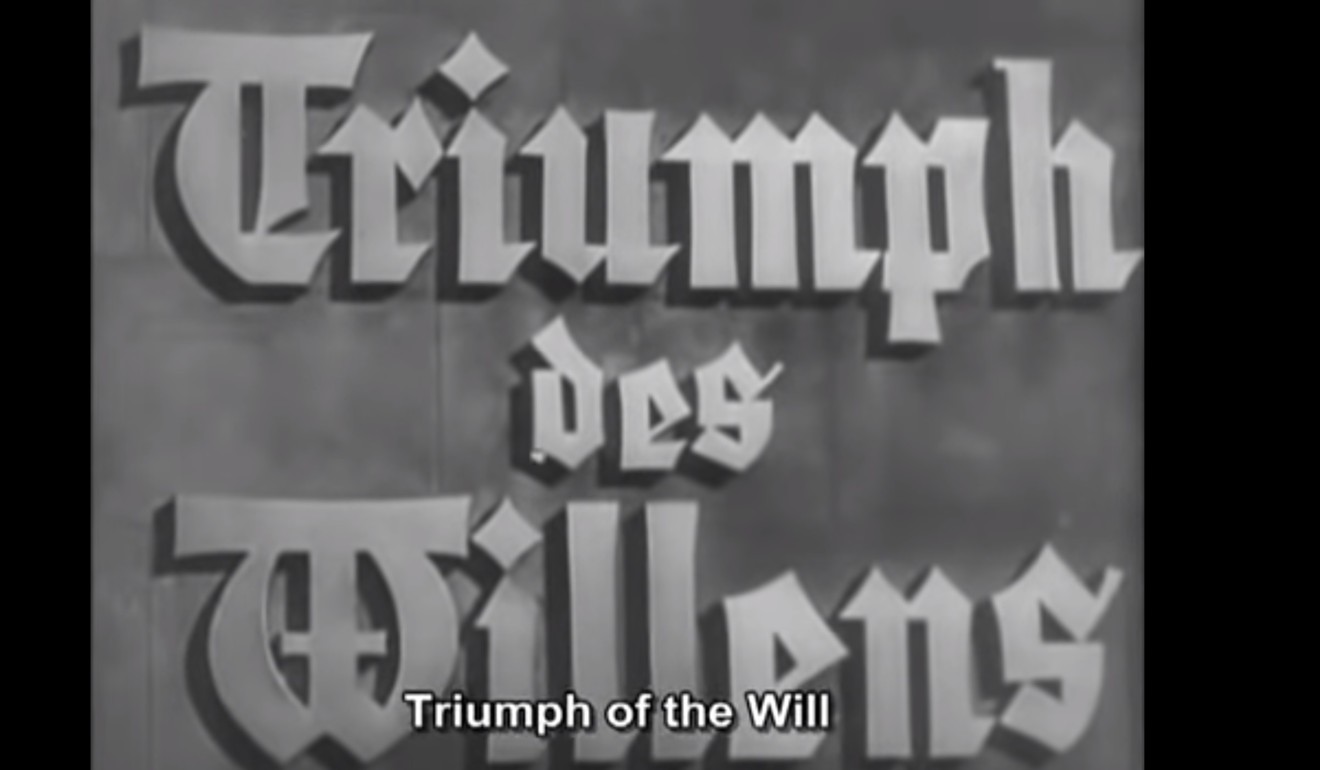 Yet this year, as Modi stands for re-election, 's reference to propaganda half a decade ago seems particularly prophetic. In January alone, three mainstream Hindi films were released that directly channelled Modi's positions, policies or rhetoric.
In The Accidental Prime Minister , Modi's predecessor Manmohan Singh is portrayed as a puppet of the prominent Nehru-Gandhi family – the so-called first family of Indian politics as three of its members have been prime minister. The BJP's approval of the film was made quite clear when it shared a link to the trailer on its official Twitter account.
Uri: The Surgical Strike , meanwhile, dramatises a covert operation conducted by the Indian military against Pakistan in 2016, in retaliation for a deadly terrorist attack earlier that year in Kashmir. In the film, a prime minister who is unnamed but looks like Modi is shown as a caring man who stays up late to see how the operation ended and congratulate the team. On January 19, when Modi officially opened the National Museum of Indian Cinema in Mumbai, he greeted the audience with a line from the film: "How's the josh [energy]?"
The third film is Manikarnika , an epic period drama based on the life of the queen of a 19th-century princely state who battled the British as part of a series of uprisings across colonial India that came to be known as the Revolt of 1857.
"The difference between you and me is that you want to rule, and I want to serve my people," the title character says to a British officer in the film. This distinction between ruler and public servant is one that Modi likes to make when comparing himself to the Nehru-Gandhis – often referencing his own humble background as a chaiwala (tea seller).
Elsewhere in the movie, Manikarnika saves a calf from "becoming steak" for the British. Modi's tenure as prime minister has been marked by a large number of horrific killings known as cow lynchings, in which people are murdered on suspicion of eating beef, or taking a cow for slaughter.
Cows are sacred to some – primarily upper-caste – Hindus, yet beef is a cheap source of protein for many lower-caste communities. India is also home to the world's second largest population of Muslims (after Indonesia), as well as a small percentage of Christians. Both these communities eat beef.
The Modi references don't end there, either. A biopic on the prime minister has been announced starring Indian actor Vivek Oberoi, who is credited in promotional materials as Vivek Anand Oberoi.
The significance of this name change – a departure from how Oberoi was credited for the first 16 years of his career – can be seen in its similarities to Swami Vivekananda, the assumed title of a 19th-century philosopher often photographed in saffron-coloured robes whose confidence in his Hindu identity shares certain similarities with the Hindu-first politics of the BJP.
Vivekananda believed, for instance, that the long Muslim rule in what is now known as India was a thousand years of "slavery" to "central Asian savages". He is one of the thinkers that Modi quotes most often. Interestingly, Vivekananda's real name was Narendranath, a longer version of the prime minister's first name Narendra.
Oberoi seems to have decided that he must not only look like the prime minister but also underline his proximity to him by rolling out his full name for this project.
जय हिन्द. జై హింద్. ஜெய் ஹிந்த். Jai Hind We humbly ask for your prayers and blessings on this incredible journey. #AkhandBharat #PMNarendraModi pic.twitter.com/t0lQVka7mJ

— Vivek Anand Oberoi (@vivekoberoi) January 7, 2019
Looking ahead, Mere Pyare Prime Minister (My Dear Prime Minister), which will tell the story of a child from a slum who wants to build a toilet for his single mother, is also nearing completion.
Toilets form an integral part of Modi's flagship Swachh Bharat Abhiyan (Clean India Campaign). Other films to broach the subject include 2017's Toilet: A Prem Katha (Toilet: A Love Story) which was about a young wife who demanded a toilet in her marital home, sparking a sanitation and social revolution.
This film directly referenced Modi's toilet campaign while also expressing admiration for his controversial demonetisation of the 500- and 1,000-rupee notes – a move widely held by economists, including the Nobel laureate Amartya Sen, to be a disaster. The film, however, is considered a hit.
Last year, Hindu cinema giant Yash Raj Films released Sui Dhaaga (Needle and Thread) – a love letter to Modi's Make-in-India and StartUp India campaigns, with its against-all-odds narrative of a young couple's small entrepreneurial venture.
One of the prime minister's most resonant election campaign promises was that he would create 10 million jobs per year. In 2018, Modi said 7 million jobs had been created in India – arguably the highest in his tenure as prime minister – yet still 30 per cent short of what was promised. Moreover, India's job data is contested – economists who are not employed by the government point to problems with the numbers.
Modi has indirectly admitted as much in a television interview, where he said he considered someone selling small street snacks like pakoras to be gainfully employed. Sui Dhaaga seemed to channel this self-employment narrative.
There has, in general, been a noticeable increase in nationalistic films over the past five or six years. Mostly, this takes the form of the sports drama, which offers a loving vessel for nationalism and its iconography – unfurling the flag, singing the national anthem and other such displays. Modern action films, too, often feature plots about threats to national security or the adventures of the country's many fighting forces, while even social dramas and love stories are seasoned with such themes – romantic heroes in some Hindi films work on projects of national importance, such as education or finding solutions to women's health issues.
It was enlightening to hear the honourable Prime Minsiter @narendramodi share his views on our Industry's soft power status and the strength of our cinema...he gave our media and entertainment representatives a patient and solid hearing....thank you Sir!! pic.twitter.com/BIl8ubQwYa

— Karan Johar (@karanjohar) December 18, 2018
Aside from what is happening on the screen, Modi has also been photographed with Bollywood actors, directors and producers over the last few months, both in serious-looking formal settings and grinning selfies.
In a recent interview, big-ticket Bollywood director Karan Johar said the PM had been "very proactive on [film] industry needs and had addressed them."
The article originally appeared on www.scmp.com