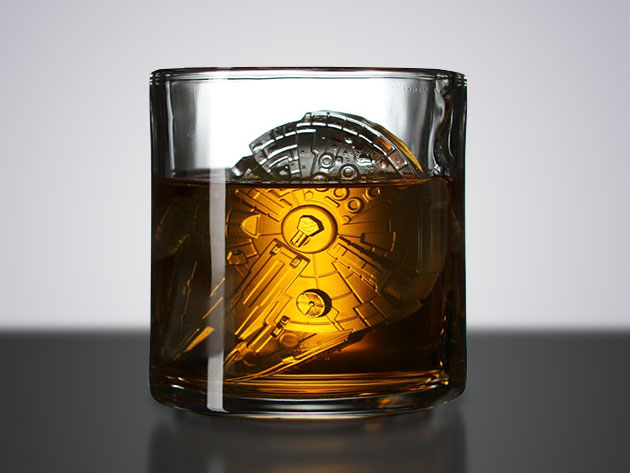 Cyber Monday is just around the corner, but you don't need to wait until hoards of shoppers break the internet in order to save big on these top-rated gadgets and accessories—each of which is available for an additional 20% off when you enter the coupon code CMSAVE20 at checkout.
1. AquaSonic Black Series Toothbrush and Travel Case With 8 Dupont Brush Heads
MSRP: $140 | Sale Price: $40 | Price w/ code CMSAVE20: $32
This electric toothbrush removes up to 10x more plaque than a traditional toothbrush and comes with its own travel case.
2. Nomad 1.5M Battery Lightning Cable
MSRP: $50 | Sale Price: $20 | Price w/ code CMSAVE20: $16
Keep your devices charged in durable style with this 1.5M lightning cable that comes with its own battery.
3. Wilfa Precision Automatic Coffee Maker
MSRP: $350 | Sale Price: $75 | Price w/ code CMSAVE20: $56
This precision coffee maker makes it easy to wake up to the perfect cup of coffee every morning, thanks to finely-tuned heat controls.
4. Millennium Falcon Ice Molds
MSRP: $15 | Sale Price: $10 | Price w/ code CMSAVE20: $8
These millennium Falcon ice molds are a must-have for any Star Wars fan who hates diluting their drinks with regular ice cubes.
5. Dr. Save Vacuum Travel Kit
MSRP: $70 | Sale Price: $33 | Price w/ code CMSAVE20: $26
Travel lighter with this vacuum kit that can shrink your clothing by up to 70%.
6. RECOVER 600mg CBD Muscle Recovery Rub
MSRP: $60 | Sale Price: $48 | Price w/ code CMSAVE20: $38
Treat your post workout soreness the right way with this rejuvenating CBD muscle rub.
7. Bamboo Comfort 4-Piece Luxury Queen Sheet Set (Gray)
MSRP: $109 | Sale Price: $33 | Price w/ code CMSAVE20: $26
This incredibly comfortable and breathable luxury Queen sheet set will help you sleep better throughout the night.
8. B-2 BLITZ Tactical Pocket Knife
MSRP: $75 | Sale Price: $35 | Price w/ code CMSAVE20: $28
Carry an ultra-durable, super sharp blade with you wherever you go with this fully-concealable tactical knife.
9. SmartPan 3-Piece Knife Set
MSRP: $40 | Sale Price: $16 | Price w/ code CMSAVE20: $13
This 3-piece knife set makes it easy to quickly and efficiently cut everything from meat to veggies.
10. BUZIO Weighted Blanket
MSRP: $159 | Sale Price: $75 | Price w/ code CMSAVE20: $60
Decompress after a long day with this weighted blanket that relieves stress and helps you sleep.
Judge says Facebook users entitled to better security but not $ damages
In a decision released late Tuesday night, a federal judge ruled that up to 29 million Facebook users whose personal info was stolen in a September 2018 data breach are not entitled to sue Facebook as a group for damages — but the users may be entitled to demand better personal data security at Facebook.
READ THE REST
TikTok's Chinese owner ByteDance wants you to know everything is just fine, really
China-based technology company ByteDance is on a charm offensive, reports Reuters, ramping up efforts to distance its popular social app TikTok from the rest of its Chinese operations.
READ THE REST
Talking Adversarial Interoperability with Y Combinator
Earlier this month while I was in San Francisco, I went over to the Y Combinator incubator to record a podcast (MP3); we talked for more than an hour about the history of Adversarial Interoperability and what its role was in creating Silicon Valley and the tech sector and how monopolization now threatens adversarial interop […]
READ THE REST
This "follow-me" FPV drone is an extra 20% off for Cyber Monday
Holiday memories are precious and should be remembered — but when you're in the moment, it can be difficult to remember to take photos. This Force Flyers Card Drone with Hi-Res Wi-Fi FPV Camera is a clever workaround to designating someone as the family reunion photographer: it's a follow-me style drone that zips around, capturing […]
READ THE REST
Digitize your notes with this reusable notebook that's 20% off for Cyber Monday
Sometimes you can capture more in a notebook than you ever could with a laptop or tablet, whether you're doodling dreams or developing intricate mind maps. This Rocketbook Wave Executive Smart Notebook with Pen Station helps you capture your most innovative thoughts and drawings forever by saving them to the cloud. You can find it […]
READ THE REST
Get a Cyber Monday deal on this smart guitar that makes lessons mobile and user-friendly
It can be hard to pick up on music lessons later on in life, even if the desire is there to learn how to play. In between finding the time for lessons and retaining the skills you do manage to pick up, it can feel like an uphill battle to learn to play an instrument. […]
READ THE REST