As the Pakistani nation buckles under the recent spike in petrol prices, Minister Fawad Chaudhry states that the prices in Pakistan are still the lowest in the region.
The government on Wednesday increased the petrol and diesel prices by Rs5 per litre each for the second half of outgoing month. The new prices of petrol are Rs123.30 per litre, diesel Rs120.04 per litre, kerosene Rs92.26, and LDO price as Rs90.69 per litre.
According to the government, the surge in international oil prices and also Pakistani rupee devaluation against the US dollar increased the local prices.
On that note, and amid backlash, Fawad Chaudhry took to Twitter and defended the government's decision to increase prices.
Read more: Fawad Chaudhry's powerful interviews make him most popular minister
"Oil prices in Pakistan are still the lowest in the region. Either the oil wells come out in three years or else. It is obvious that when you buy petrol from abroad, the price will go up. This is the principle of imports," Fawad Chaudhry tweeted.
"The real achievement is that the income of 75% of the population also increased significantly," he further added.
پاکستان میں تیل کی قیمتیں اب بھی ریجن میں سب سےکم ہیں، یا تو تین سالوں میں تیل کے کنوئیں نکل آتے ورنہ ظاہر ہے جب آپ نے تیل باہر سے خریدنا ہے تو قیمت بڑھے گی تو قیمتیں بڑھیں گی، یہی اصول باقی درآمدات کیلئے ہے۔اصل کامیابی یہ ہےکہ75 فیصد آبادی کی آمدنی میں بھی خاطر خواہ اضافہ ہوا ہے https://t.co/vfggD1xaFx

— Ch Fawad Hussain (@fawadchaudhry) September 16, 2021
In another tweet, the minister clarified that Pakistan's purchasing power is better than India's. He also took into account the problems of the salaried class but firmly maintained that the population also faced an increase in salaries.
پاکستان کی قوت خرید ہندوستان سے بہتر ہے، تنخواہ دار طبقے کی مشکلات اپنی جگہ لیکن 60 فیصد آبادی زراعت سے وابستہ ہے جن کی کو 1100 ارب روپے اضافی آمدنی ہوئ، تعمیرات اور انڈسٹری سے وابستہ کروڑوں لوگوں کی آمدن میں بھی اضافہ ہوا، مستری اور مزدور کی دیہاڑی تین گنا بھی بڑھی https://t.co/m5E9xbAe0c

— Ch Fawad Hussain (@fawadchaudhry) September 16, 2021
Media spreading fake news?
Moreover, as per Fawad Chaudhry, the media is spreading fake news once again and is distorting the actual truth.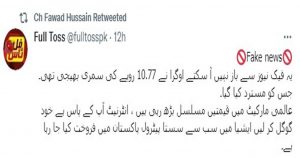 Oil and Gas Regulatory Authority (OGRA) recommended an increase of Re1 per litre in the price of petrol, Rs10.5 per litre in the price of diesel and Rs5.5 per litre each in prices of kerosene oil and light diesel oil.
However, the government rejected OGRA's summary and instead announced a nominal decrease in the rates. The government increased the petroleum levy on petrol and diesel by Rs2.11 per litre and Rs3.09 per litre respectively.
Read more: Fawad Chaudhry calls out foreign media for publishing fake news against Pakistan
#PTIPetrolBomb: Reaction to the inflated prices
PPP Chairman Bilawal Bhutto lashed out at the PTI government over the high petrol prices. He called out PM Khan and said the population is "crying" due to a record increase in Pakistan fuel prices.
"Where are the promises of providing relief to the public? Khan Sahib, when will the nation see good days?" Bilawal Bhutto questioned.
The population is sharing Bilawal Bhutto's sentiments. With #PTIPetrolBomb trending on Twitter, Pakistanis are worried over the increase in prices. To them, the inflated prices is not tabdeeli, but tabahee.
Twitteratis also called out PM Khan for doing exactly what he heavily criticized previous governments for.
Absolutely shameful how the govt has dropped a petrol bomb on the poor nation at the start of 2018. Instead of undertaking tax reforms and cracking down on money laundering, the govt continues to burden the masses – this time with a big increase in petroleum products' prices.

— Imran Khan (@ImranKhanPTI) January 1, 2018
Fawad Chaudhry defends high petrol prices