Click here to view original web page at ahvalnews.com
Expert Afghan jeweler Khalil Nuri poses for a picture in his shop, in the Grand Bazaar in Istanbul, on April 11, 2019. Ozan Kose/AFP Afghan entrepreneurs are finding increasing success in Turkey, taking advantage of their considerable know-how and the country's simplified procedures for refugees setting up new businesses, Agence France-Presse reported on Sunday. When Haji Yakup Burhan fled the violence of his home country 30 years ago he took his family and his money to Saudi Arabia, hoping to open a restaurant. But as refugees, his children had trouble getting into school, according to AFP. He moved to the United Arab Emirates, but the expense of Dubai proved too much. "Two years ago, he moved to Turkey and opened a restaurant in Istanbul's Esenyurt neighbourhood, taking advantage of the country's relatively open business environment for refugees," said AFP. "I have 15 people working for me in this restaurant. They are Afghans, Iranians and Turks," said the 52-year-old Burhan, at his Afghan Kebab restaurant. "Over 60 per cent of our customers are Afghans living here. The rest are Arabs, Iranians and Turks." Turkey hosts nearly four million refugees, including some 3.5 million Syrians. But Afghans come next, at more than 145,000, according to Amnesty International figures released last year. AFP said that while some people in Turkey viewed refugees as a burden, refugees had made but a significant investment in places such as Burhan's bustling Istanbul suburb. Last September, to encourage foreign investment, Turkey slashed the threshold at which Turkish citizenship is offered to foreigners buying property from $1 million to $250,000, spurring an 82 percent increase in foreigners buying real estate in the first quarter of this year, according to the Turkish Statistical Institute. Mehmet Yasin Hamidi, an Afghan who runs a real-estate agency in Beylikdüzü, on Istanbul's outskirts, told AFP that his sales of homes had doubled this year compared to last year. "People cannot protect their lives and money in Afghanistan," said Hamidi, who has many Afghans clients. "If you have money, you or your children could get kidnapped. The businessmen are threatened there. That is why they bring their money here." Hadi Ekhlas, an engraver from Afghanistan's Hazara ethnic group, left the war-torn nation eight years ago. In Turkey, he now engraves Islamic and Ottoman scripts on rings and semi-precious stones, a skill he learned from his grandfather. "In the past, some Turkish traders would import stones with engravings from other countries, but now I am making them here and taking orders," said Ekhlas, who has a Turkish partner. "I plan to expand my business in the near future. I'd also like to teach my skills to other Turks here." Afghan refugee entrepreneurs thrive in Turkey Trump's threats on immigrants echo Turkey's Erdoğan – Slate

Afghan entrepreneurs are finding increasing success in Turkey, taking advantage of their considerable know-how and the country's simplified procedures for refugees setting up new businesses, Agence France-Presse reported on Sunday.
When Haji Yakup Burhan fled the violence of his home country 30 years ago he took his family and his money to Saudi Arabia, hoping to open a restaurant. But as refugees, his children had trouble getting into school, according to AFP. He moved to the United Arab Emirates, but the expense of Dubai proved too much.
"Two years ago, he moved to Turkey and opened a restaurant in Istanbul's Esenyurt neighbourhood, taking advantage of the country's relatively open business environment for refugees," said AFP.
"I have 15 people working for me in this restaurant. They are Afghans, Iranians and Turks," said the 52-year-old Burhan, at his Afghan Kebab restaurant. "Over 60 per cent of our customers are Afghans living here. The rest are Arabs, Iranians and Turks."
Turkey hosts nearly four million refugees, including some 3.5 million Syrians. But Afghans come next, at more than 145,000, according to Amnesty International figures released last year.
AFP said that while some people in Turkey viewed refugees as a burden, refugees had made but a significant investment in places such as Burhan's bustling Istanbul suburb.
Last September, to encourage foreign investment, Turkey slashed the threshold at which Turkish citizenship is offered to foreigners buying property from $1 million to $250,000, spurring an 82 percent increase in foreigners buying real estate in the first quarter of this year, according to the Turkish Statistical Institute.
Mehmet Yasin Hamidi, an Afghan who runs a real-estate agency in Beylikdüzü, on Istanbul's outskirts, told AFP that his sales of homes had doubled this year compared to last year.
"People cannot protect their lives and money in Afghanistan," said Hamidi, who has many Afghans clients. "If you have money, you or your children could get kidnapped. The businessmen are threatened there. That is why they bring their money here."
Hadi Ekhlas, an engraver from Afghanistan's Hazara ethnic group, left the war-torn nation eight years ago. In Turkey, he now engraves Islamic and Ottoman scripts on rings and semi-precious stones, a skill he learned from his grandfather.
"In the past, some Turkish traders would import stones with engravings from other countries, but now I am making them here and taking orders," said Ekhlas, who has a Turkish partner. "I plan to expand my business in the near future. I'd also like to teach my skills to other Turks here."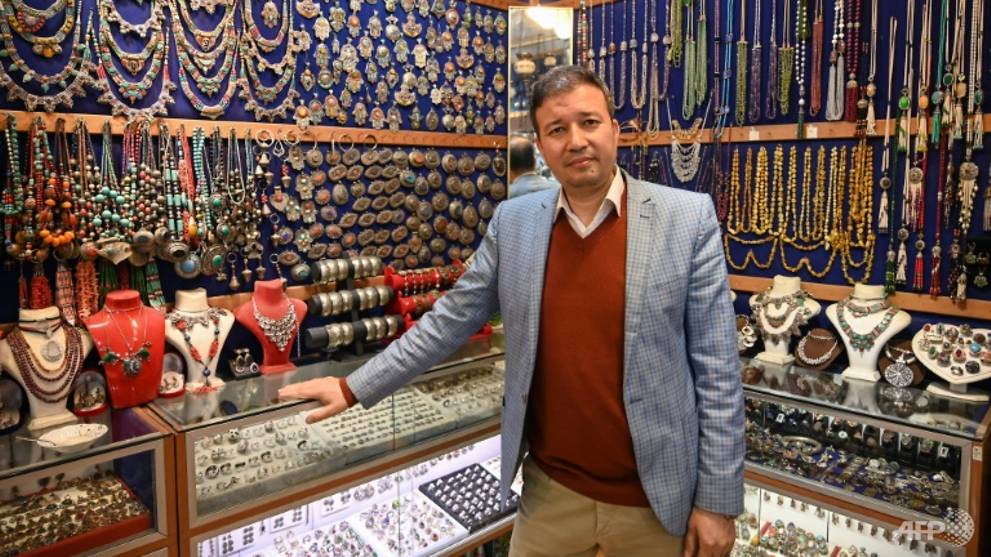 Afghan refugee entrepreneurs thrive in Turkey
The article originally appeared on ahvalnews.com