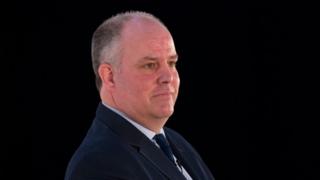 Failing to leave the European Union would be a "brutal betrayal of democracy", the previous Welsh Tory chief in the Senedd has said.
Andrew RT Davies included not providing Brexit would pose a "true danger to the fabric of the United Kingdom".
Prime Minister Boris Johnson mentioned he plans to renegotiate Theresa May's Brexit deal, but is committed to leaving on 31 Oct come what might.
Mr Davies claimed he was self-confident the United kingdom would leave by the October deadline.
The EU would be to blame if the British isles remaining without having a offer, the South Wales Central AM mentioned.
Right after Mr Johnson's first speech as prime minister to MPs, the EU's main Brexit negotiator, Michel Barnier, despatched a be aware to European leaders saying having rid of the Irish backstop was "of study course unacceptable", and labelled Mr Johnson's speech "instead combative".
Mr Johnson has insisted the most controversial element of the British isles-EU's existing Brexit deal – the Irish backstop to avert a really hard border amongst the Republic and Northern Ireland – should be taken out, but the desire has been dismissed by officials in Brussels.
Talking to BBC Radio Wales' Sunday Dietary supplement, Mr Davies claimed he still required the British isles to go away the EU with a deal, but was ready to take a no-deal Brexit.
When questioned if he believed the Uk would go away the EU on 31 Oct, he reported: "I passionately believe we will. It will be a brutal betrayal of democracy if we do not depart the European Union.
"And I'm not stating that as a Brexiteer, I am indicating that as an act of democratic participation.
"When you have an instruction as a politician you will need to act on it. If you don't act on it then democracy falls into disrepute."
%%product_examine_a lot more_button%%