Audi Pakistan has started the booking for the new Audi E-Tron GT. The car was launched in the international market a few days ago and as of today, the booking for the Sedan has started in Pakistan as well.
Read More: Government considers establishing an Electric Vehicle (EV)Board
The brave new GT in an electric car with deep engineering ties with the Porsche's Tycan. The four-door Gran Turismos were developed alongside each other and share a cutting-edge 800-volt propulsion architecture that allows for faster charging and ensures constantly enhanced performance.
Similar in size to an Audi A7, the e-tron GT will join the Audi e-tron and Audi e-tron Sportback SUVs in the range, eventually forming part of a 25-strong line-up of electrified cars carrying the 'e-tron' badge.
In the international market the GT Quattro version of the car starts around the equivalent of 1 crore 70 lacs or 1 crore 80 lacs, however, in Pakistan the starting price is Rs. 23,750,000, while the performance variant Audi RS e-tron GT has a price tag of Rs. 33,250,000. These are ex-showroom prices.
The two variants of GT:
There are two variants of the car. A regular GT and RS version. Both models are offered with dual motors and two-speed transmission. The model comes with 800V charging capabilities for fast charging. The battery pack is 93kWh but with useable energy of 86KWh. This enables a driving range of 488 Kilometers for the GT Quattro, while RS has a reported range of 472 Kilometers.
Obviously, the range is under controlled test / under certain conditions and parameters, and the real on-road range will be different depending upon different factors like temperature, driving mode, driving style, and other electric-intensive systems usage. It is typical of any EV to have a different range in real-time.
Charging time:
Both cars have an 85kWh battery and match the Porsche Taycan's maximum public (DC) rapid charging speed of 270kW. This gives the ability to add over 100 KMs of driving range in just five minutes of topping up from a fast enough charger.
Domestic (AC) charging is possible at speeds up to 11kW as standard, or 22kW as an option. The e-tron GT has AC charging ports on both sides of the car, with a DC port on the right-hand side only.
Power Output:
The 2021 Audi E-Tron GT Quattro has a power output of 476hp and 640Nm of torque for Europe. RS E-Tron GT has a power of 589hp and 830Nm of torque in Europe. In the US, the base GT has 469hp and 630Nm of torque.
The Front motor on both models has the same power, 175kWh [235hp], while the rear motor on GT is 320kW [420hp] while that on RS, it is 335kW [450hp], creating the difference.
0-100:
RS, the performance version can reach 60 in 3.1 seconds, while the GT basic version does that in 3.9 seconds. Top speed is limited to 255kmph for RS while 245 for the GT.
The company claims that the drag coefficient is lowest at 0.24.
Drive:
Efficiency mode, the car remains in second gear as much as possible for greater range.
The Sports mode is for performance and launch purposes. In this model, the vehicle remains in first gear till 100km/h speed is achieved, for greater acceleration.
All-wheel steering is available as an option on both versions. It also comes with a locking rear differential for improved traction for better handling of the car.
Interior:
Inside the 2021 Audi e-tron GT, we expect to see lots of functional equipment and room to hold four adults comfortably.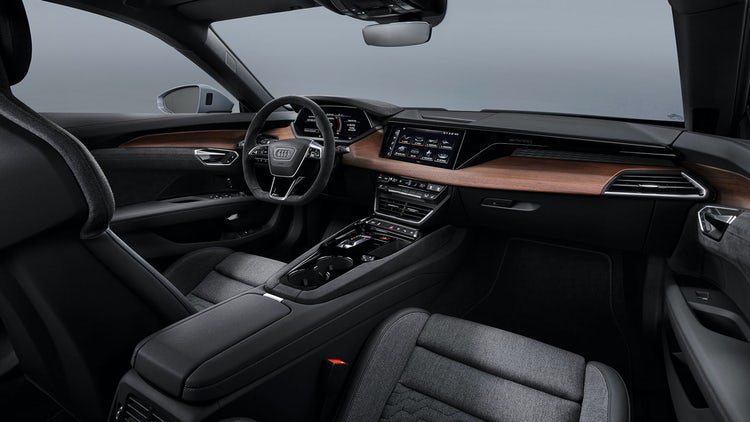 The luxury fabric is supposed to be produced from recycled material and there will be multiple displays on the angular dashboard. You can store your cargo in the front trunk or the conventional rear one if you prefer.
Read More: Pakistan to get a Plug-in-Hybrid by MG!!
There is a 12.3-inch virtual digital HD instrument display while 10.3 touch screen infotainment system.